I adore giving gifts. I mean, I REALLY adore it. I search for the perfect Christmas gifts for months, imagining how happy people will be when they open them, and how much they will enjoy them time and time again. When I finally find the perfect gift, it makes me so very happy!
I'm linking up to Too Cute Thursday from
Marriage Tales
! Check out her blog and see other cutie things!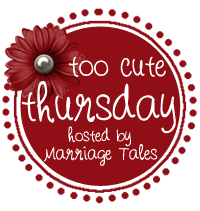 Well, I found that gift here recently, and I just have to share it with you! I was looking for one of those "Established" signs for a couple that is celebrating Christmas in their new home. I saw tons of the at stores and craft shows, but they were really expensive. With the baby coming, we are doing a light Christmas this year, but I still really want it to be wonderful and thoughtful.
I headed to my go to site - etsy, and I stumbled across Renee's shop -
Nestlings
. She was such a pleasure to deal with, and it is so evident that she truly loves what she does. She sent me back a proof within a day, and I had my gift so quickly! She communicated with me throughout the entire process, and when I got my sign in the mail - I knew it was going to be my favorite gift to give our friends this year! It came wrapped beautifully and professionally, with a pretty green bow (I'm a sucker for bows!). The sign itself is amazing quality, and much more beautiful than the ones I have seen in person for 3 times the costs. If you are looking for something like this for Christmas, weddings, or anything else, check out her stuff!
No, I was not paid or given anything to write this up, I just wanted to share an amazing find with all of you :)
Here are some of her beautiful products -